Indoor Soccer

Registration
The registration fee is $50 per team per season.
Game Fees
Game fees for Open Mens, Ladies and Mixed competitions are $10.00 per player, and Juniors are $9.00 per player.
The Game
As in the outdoor game the object is to score goals. One big difference is the use of the walls/nets – instead of the ball going out, it stays alive and can be played on. This makes for a very fast, fluent game with no time wasted.
Adelaide Indoor Soccer Centre has the most number of teams playing in any centre with arguably the strongest indoor soccer competition played in Adelaide.
We offer a unique indoor soccer facility with 2 state of the art 32m x 17m courts and are the biggest rebound "off the wall" indoor soccer courts found in Adelaide.
All competitions are 5-a-side competitions and require a minimum of 5 players although due to the blood rule 6-7 players is recommended.
For more info visit our rules page.
Leagues

Open Mens Leagues are played Monday, Tuesday, Wednesday, Thursday evenings from 6pm to 10:30pm
The Mixed League is played Thursday evenings from 6pm to 10.30pm.
Please note: the mixed soccer league rules are modified – see our rules page for more detail.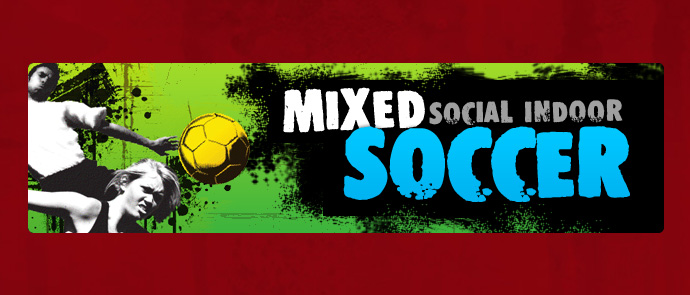 Junior Leagues are available Saturdays 8am to 4pm.
New Soccer leagues are now starting for:
Mens – Monday, Tuesday, Wednesday, Thursday Competitions
Mixed – Thursday Competitions
Juniors – Saturdays (8am-4pm) – STARTING Saturday September each year for 25 weeks.
Sign up your team now!
Or contact us for further details.