5 on 5 Netball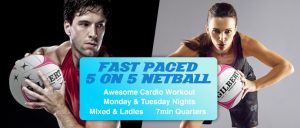 EXCITING 5 on 5 Netball Starting Soon
Ladies and Mixed 5a side Netball starting this August
NOW TAKING REGISTRATIONS
New Leagues starting Monday and Tuesday nights
Registration
The registration fee is $30 per team per season.
Match Fees
Match fees are $50 per team per match.
The Game
Based on the outdoor game, but the nets which would be normally be 'out' lines can be played off to keep the ball alive, making this a much faster, fluent game, with no time wasted chasing out balls etc. with less stoppages.
All games are 5-a-side competitions and each team must have at least 5 players making it a fun game for everyone.
Match Duration
All games consist of 4 x 7.5 minute halves.
Leagues
Ladies and Mixed Leagues are available Monday and Tuesday evenings from 6pm to 10.00pm
For more info call us on 8235 0890
Or contact us for further details.